President
John Wirth
John has been with the Board of Directors since 1993, living in Sherwood most of his life, John has held many positions around Sherwood including past mayor, village council member, and zoning board member. John is currently Chairman of the Board of Directors of The Sherwood State Bank, President of Wirth's Supermarket Inc. and Wirth Holdings LTD. He is a current member of the Sherwood Area Economic Development Corporation. John is married and has 2 children.  John's current three-year term expires in 2022.
---

Vice President
Bill Wendling
Bill is a lifelong resident of the Sherwood area, a graduate of Fairview High School and a full time farmer. He recently retired from construction after operating as a General Contractor for fifteen years. He is a member of the Farm Bureau, the Fairview Athletic Boosters and the St. John Lutheran Church where he has been President of the Lutheran Layman's League, elder, Trustee and Financial Secretary. Bill lives in rural Sherwood with wife, Holly and daughters Ally and Carly. Bill was elected at the annual meeting in 2013. His term expires in 2022.
---

Secretary / Treasurer
Jim Hohenberger
Jim was first  appointed to the Board in April, 2012 to fill an unexpired term created by a resignation. Jim is a 1969 graduate of Fairview High School and holds a Bachelor of Science degree in Business Administration from The Defiance College. He is retired from his position as a Senior Accountant at Johns-Manville in Defiance and a six-term member of the Sherwood Village Council. In addition, he serves as Chairman of the Administrative Board of the Sherwood United Methodist Church. Jim is married to Margaret and they have two grown daughters, Melissa and Shelly. Jim's current term expires in 2023.
---

Jim Timbrook
Jim was elected to the Board of Directors for a three-year term at the Annual Meeting in 2012.  Jim is a retired plant electrician at Parker-Hannifin.  He was instrumental in the development of Moats Park, has been a 4-H Advisor, a Union Representative for UAW 1935 and a Marysdale Parish Council member for two terms.  Currently he is a 4-H endowment committee member, a Director of Christo Rey Federal Credit Union since 2002, a member of the Marysdale Cemetery Committee and a Knights of Columbus building board committee member. His current term expires in 2024.
---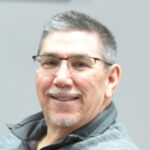 Tom Turnbull
Tom is a first generation funeral director and embalmer.  Tom began his career in Indiana, moved to Toledo to work as a funeral director and location manager.  In 2003 he moved to Bryan and he began his career with the Oberlin family in 2007.  He became partner at Oberlin Funeral Home in 2009.  He attends New Hope Community Church in Bryan.  He is a member of the Bryan Rotary Club where he serves on the Executive Board as President.  He has also serving on the Bryan Area Chamber of Commerce.  Tom is married to Lisa and they have 3 grown children. His term expires in 2023.